Believe it or not, until the birth of Avatarwares, VZones (or Worldsaway at the time) only gave members six avatars to choose from, in all its worlds. Heres the timeline for the release of avatars worldwide...
As you know, before Worldsaway, before Habitat 2, we had Club Caribe. CC only had two avatars availiable:
The two avatars shown here are the Male and Female avatars, the only difference being, breasts on the female. Arms/sleeves were paintable to create the t-shirt effect so new clothes could become accessible, in addition to colors, with a simple paint code.
The birth of Dreamscape and Habitat 2. The members of DS were given six avatars to choose from:
Yup, until 1999, those avatars were the only ones we had... or so we thought. It appeared that another two bodies were being worked on at the time. When Honolulu opened in New Radio World, these two bodies were unveiled:
| | |
| --- | --- |
| | |
| Tarzan | Jane |
Although not immediately availiable to the public, they were used by the cast members in an event for the Honolulu opening. They were later released in the body machines, late 2000.
2000
The year 2000 saw the birth of Avatarwares, the tokens-for-pixels business that has effectively changed the way we think about items inworld... and the same goes for bodies. The Anime Male/Female bodies were publically released in the Dreamscape body machines for the summer, then put into the Avatarwares catalog for newHorizone. Soon after, the Anime bodies were taken out of the DS Body Machine and put into their AW Catalog too.
December 2000 saw the unveiling of the most popular bodies yet... the Tiny bodies!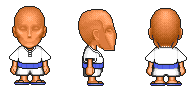 Tiny Body
2001
The Tiny Bodies were finally released as Avatarwares in March 2001, bringing about the revolution of irritatingly small ankle-biters inworlds.
May 2001, two brand new bodies were released (also in AW) called Bonnie and Clyde.
| | |
| --- | --- |
| | |
| Clyde | Bonnie |
June 2001, of course, marked the opening of the controversial, yet strangely compelling Seducity. Two naked bodies were created just for this world:
| | |
| --- | --- |
| | |
| Adam | Eve |
2002
2002 saw a flood of new avatars created, including the characters from the newly opened Second Kingdom. Eight new avatars were created specifically for use when this world opened in April 2002.
| | |
| --- | --- |
| | |
| Male Villager | Female Villager |
| | |
| Troll | Warlord |
| | |
| Faerie | Sorcerer |
| | |
| Noblelady | Dorran |
July 2002, even more avatars were added to Second Kingdoms lineup.. the pets:
The spider body was actually an enhanced, animated version of the spider knicknack that was previously used as a 'body' at halloween and other times. It was released shortly before in DS/nH as Avatarwares.
A new Sorceress avatar was used in a quest for SK: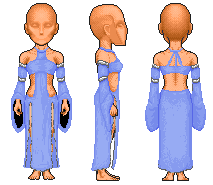 Sorceress
August 2002, Artcher's Yvonne body was released into Avatarwares.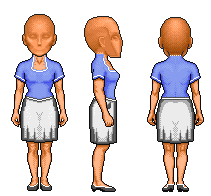 Yvonne
October 2002, even more pets were released into Second Kingdom, and pet accounts were made availiable in DS/NH.
| | |
| --- | --- |
| | |
| Bear | Squirrel |
| | |
| Dragon | Ferret |
| | |
| Frog | Toucan |
A new body was introduced for certain staff members in Dreamscape, the Pan body: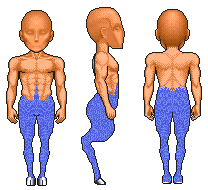 Pan Body
A month later, another pet body was released in all worlds: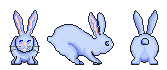 Bunny
December 2002, a Second Kingdom Quest saw the unveiling of a new Wolf avatar, a far howl (get it?) from the cutesy pet avatars.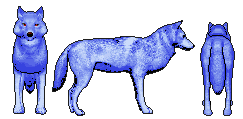 Wolf
three more member-art bodies were released, Scott, Male Toga and Female Toga.
Scott

Female Toga

Male Toga
2003 kicked off with yet another body release, the Jami body: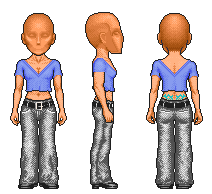 Jami
Going back to Habitat 2, some very tall new avatars were released there:
Whether or not they will make it to VZones is unknown.
Rarities
The TestAvat was momentarily used by Robert during a beta test in another world. No one knows what it was used for.

TestAvat
Another strange body is Beta, a version of the Anime Male with a big questionmark on his chest.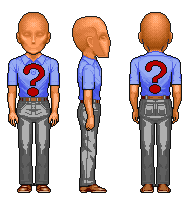 Beta
This unfinished version of the Wholesome Female, was perhaps the original version from the concept stages of Worldsaway. These days, its used as a scenery item, such as Mrs Clause at christmas.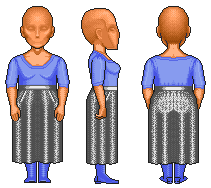 Wholesome Female 2